Ontario
Canada's most populous province (13 million in 2016) also has the largest French-speaking community outside of Québec. Over 600,000 Francophones live in Ontario, more than a third of them in the eastern part of the province (Ottawa and the counties of Prescott-Russell and Stormont-Dundas-Glengarry). They also have a strong presence in the North (Sudbury/Algoma, Timiskaming and Cochrane areas). In Central-Southwestern Ontario, the Francophone population is growing rapidly through migration and immigration, particularly in the Toronto and Hamilton areas.
1530435
Knowledge of French
597065
French first official language
Source: Statistics Canada, 2016 Census
Life in French
Education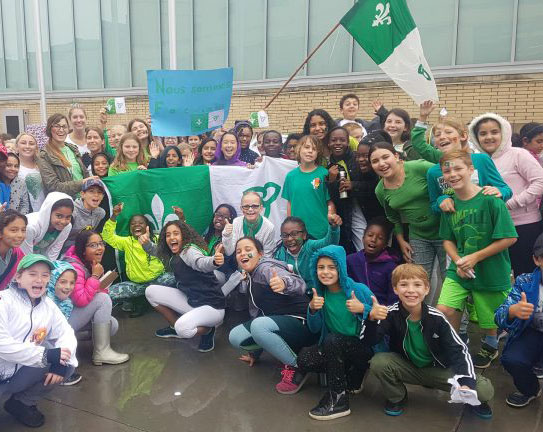 Twelve school boards (four public, eight Catholic) with nearly 300 French-language elementary and 100 French-language secondary schools.
These are the four public school boards:
The Catholic school boards can be found here:
A wide variety of early childhood services and programs are available in French in most regions. The Association francophone à l'éducation des services à l'enfance de l'Ontario provides a registry of these services.
Collège La Cité offers college programs in French at its campuses in Ottawa, Orléans, Alfred and Toronto.
Collège Boréal, whose main campus is in Sudbury, also offers college programs in French in Hamilton, Hearst, Kapuskasing, London, Nipissing, Témiskaming, Timmins, Toronto, Welland and Windsor.
It is possible to study in French at the following universities in Ontario: Laurentian University of Sudbury, University of Sudbury, Université de Hearst, University of Ottawa, Saint Paul University of Ottawa, Glendon College at York University, Ontario Institute for Studies in Education at the University of Toronto.
Health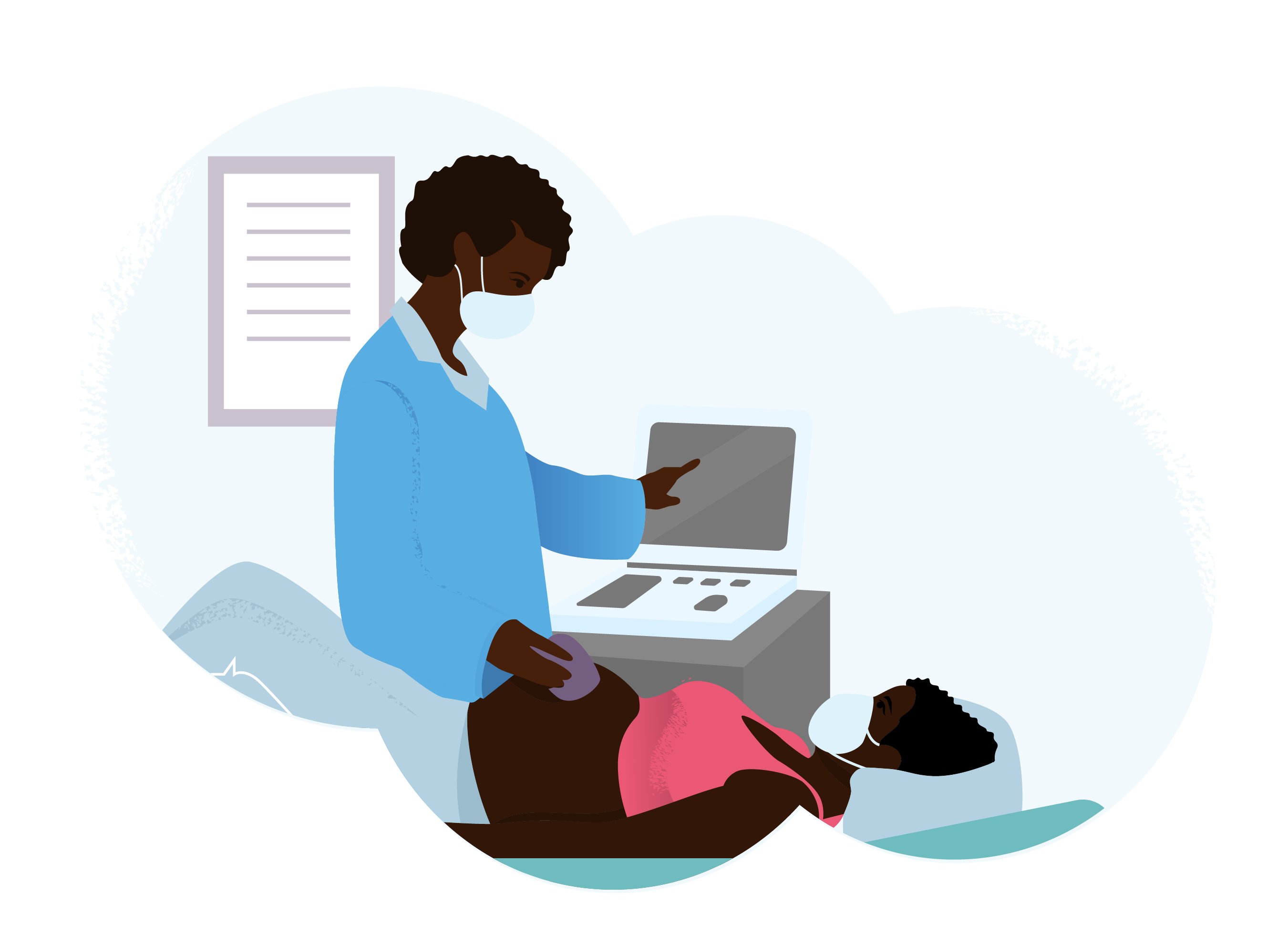 One French-language teaching hospital, Montfort Hospital, is in Ottawa.
Many hospitals are officially bilingual or offer services in French, including the Ottawa Hospital, the Children's Hospital of Eastern Ontario, the Cornwall Hospital, the Sudbury Regional Hospital and the Notre-Dame Hospital in Hearst.
Several clinics and community health centres provide services in French in accordance with the French Language Services Act.
Immigration
Employment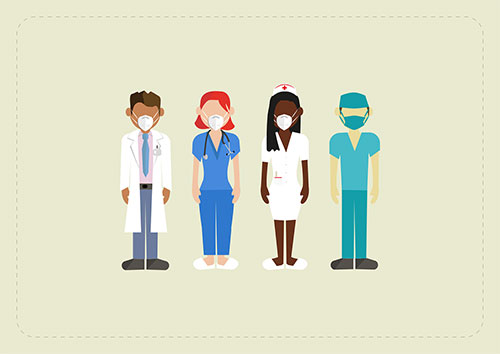 Ontario is a large province; therefore, labour-market realities can vary by region. That being said, the provincial government considers the following sectors to be the key drivers of Ontario's economy:
Aerospace
Automotive
Industrial automation and robotics
Mining
Food and beverage
Manufacturing
Chemicals and biochemicals
Life sciences
Financial services
Information technology
Clean technology
Tourism
Public administration, agri-food, educational services, health care, and transportation and logistics also play an important role in the Ontario labour market.
Settlement services Eastern Ontario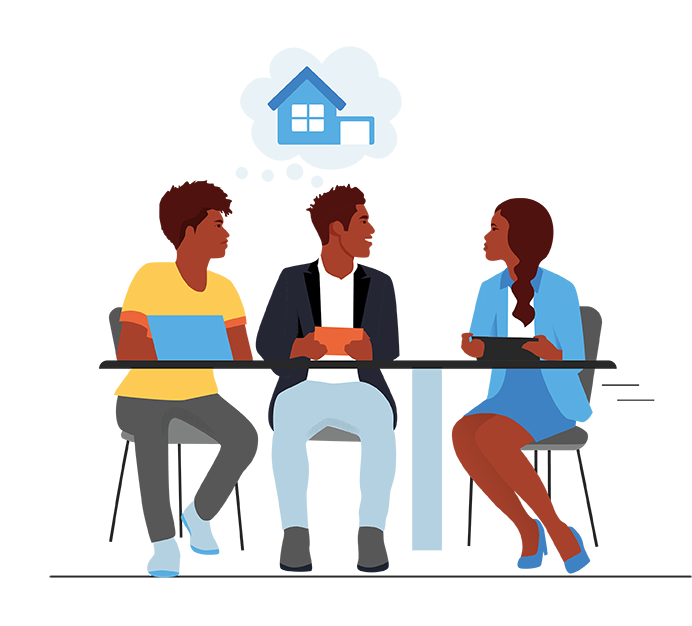 In each region, settlement services can help newcomers succeed in their French immigration project.
The Conseil économique et social d'Ottawa-Carleton (CESOC) offers the Resettlement Assistance Program (RAP) and settlement support services for Francophone immigrants, including in the areas of employment, health and social integration. https://www.cesoc.ca/fr/
The Vanier Community Services Centre, located in Ottawa's East End, provides many practical resources to assist immigrant families.
Collège La Cité offers French as a second language courses to newcomers and immigrants to Canada as well as labour-market integration services.
Coopération Intégration Canada offers various services to facilitate the integration of newcomers in the Ottawa region: French courses, employment training, translation, health, volunteer work, information program on culture and life in Canada, and specific accompaniment.
The Association canadienne-française de l'Ontario-Conseil régional des Mille-Îles provides a Francophone recepion and settlement centre to help newcomers to Kingston settle and find employment.
Centre de services à l'emploi Prescott Russell provides job-search support for newcomers and assists them in accessing settlement programs and services.
Settlement services South Central Ontario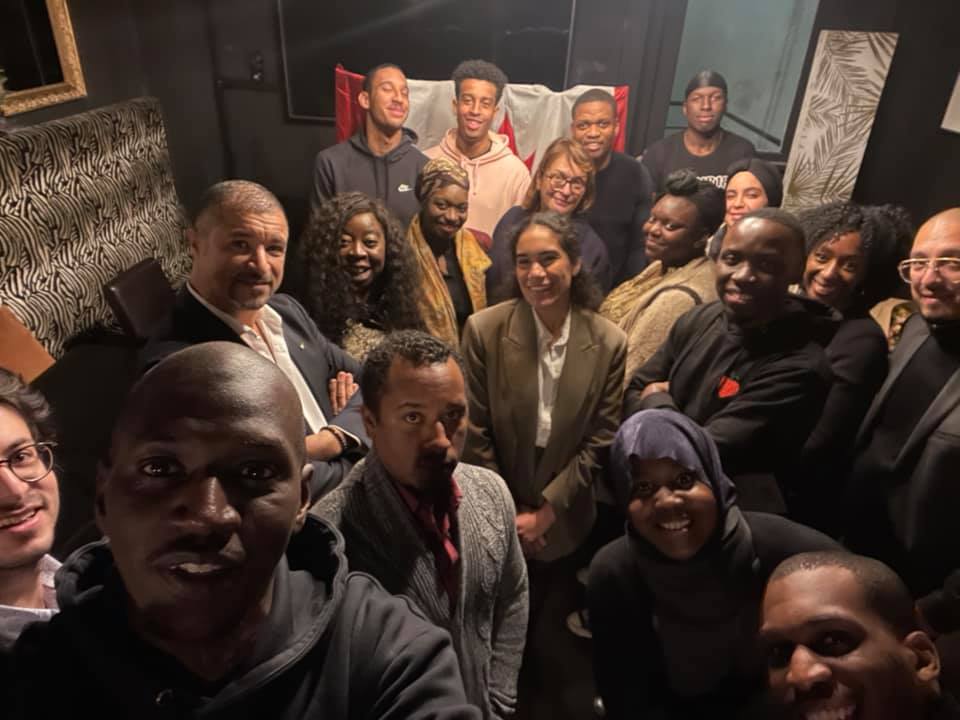 The Centre francophone de Toronto offers integration and settlement services, the Community Connections program, integration programs in French-language schools, and employment services.
La Passerelle-IDÉ (Toronto) provides integration resources, including in relation to cultural competency.
Centre de santé communautaire Hamilton/Niagara provides wellness services to newcomers.
The Centre communautaire francophone Windsor-Essex-Kent (CCFWEK) has an adolescent guidance centre that provides support to help facilitate academic, social, cultural and financial integration, and other activities. CCFWEK also offers the Settlement Workers in Schools program for newly-arrived families.
Collège Boréal offers services in terms of needs assessment and referral for newcomers, information and orientation, language and vocational training, certification, employment assistance, workshops and group activities. These services are offered in various locations: Barrie, Chatham, Sarnia, Hamilton, London, Mississauga, Toronto and Windsor.
Association des francophones de la région de York offers free information, orientation, needs-assessment and community-connection services for newly-arrived refugees. The association also accompanies students and parents to help them integrate into the school system.
The Conseil scolaire catholique MonAvenir provides welcoming and integration services for newcomers in the regions of Peel Halton, Toronto, Durham and Hamilton-Niagara.
Connecture Canada offers professional development, entrepreneurship and community-liaison programs for Francophone immigrants in the Greater Toronto Area and beyond.
The Conseil des organismes francophones de la région de Durham offers settlement services to newcomers as well as a Settlement Workers in Schools program to facilitate the integration of children in school.
FrancoQueer, through its "Carrefour des Immigrants FrancoQueer" program, facilitates the settlement and integration process of French-speaking LGBTQIA newcomers and refugees in the Greater Toronto Area.
Société Économique de l'Ontario provides employment services and runs the Carielles program for Francophone women from visible minorities, both permanent residents and refugees.
Settlement services Northern Ontario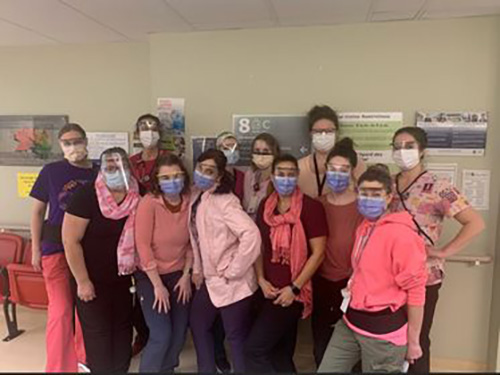 Hearst to Smooth Rock Falls Northeastern Ontario Settlement Services supports people of immigrant background in meeting their basic needs (information, orientation, assistance in finding housing and employment) and in cultivating community links.
Centre de santé communautaire du Grand Sudbury offers services in health, education, housing, employment, cross-cultural training for Francophone newcomers and support services for refugees.
Collège Boréal in Timmins, Sudbury offers services for refugees, needs assessment and referral for newcomers, information and orientation, accompaniment, language and vocational training, certification, and employment assistance.
L'Association des francophones du Nord-Ouest de l'Ontario (AFNOO) provides free settlement services for the successful economic integration of newcomers in Thunder Bay and Northwestern Ontario.
Thunder Bay Multicultural Association provides a range of essential information and referral services to assist and support newcomers, immigrants and refugees to settle successfully in the region. Services are available in French upon request. Please contact them in advance for an appointment.
Welcoming Francophone Community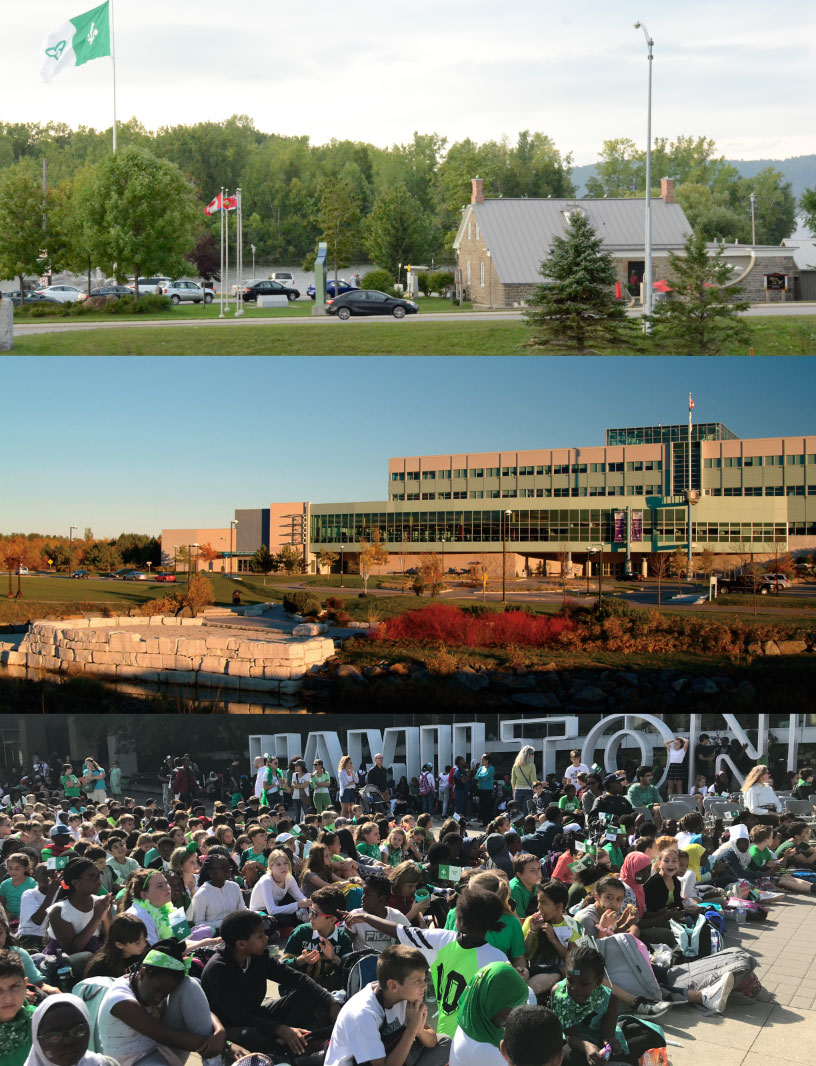 There are three Welcoming Francophone Communities in the province: Hawkesbury in the East, Sudbury in the North, and Hamilton in the South.
In Hawkesbury, daily life is lived primarily in French! This town is located near the Ottawa River between Montréal and Ottawa. A multitude of Francophone community and social services are offered to all age groups. Its geographical location allows for outdoor activities of all kinds and for all tastes in summer and winter: biking, rafting, water parks or water activities, as well as cross-country skiing, snowshoeing and snowmobiling!
Some figures:
91.1% of the population knows French.
26.6% of immigrants have French as their first official language spoken.
Sudbury is a larger city than Hawkesbury, and the main city in Northeastern Ontario. It is located five hours' drive from Toronto, and stands out for its post-secondary institutions, its tourist attractions based around science and geology, and its bilingual municipality interested in the Francophone cause. It boasts a vibrant Francophone community with a Francophone health centre, several Franco-Ontarian cultural and artistic organizations (theatre, festivals, music), daycares and Francophone schools.
Some figures:
39.5% of the population knows French.
6.6% of immigrants have French as their first official language spoken.
Historic Hamilton is located between Toronto and Niagara Falls. It is Canada's second "sanctuary city" and has more than 100 waterfalls. Its Francophone community is multicultural and extremely dynamic. The city aims to become a centre for the arts, entertainment and culture. Hamilton is also known as a hub of innovation: it is home to McMaster University, one of Canada's leading research institutes in health sciences and engineering, as well as McMaster Innovation Park, a major scientific-research facility. Hamilton is also in close proximity to many of Ontario's top wineries.
Some figures:
6.6% of the population knows French.
2.2% of immigrants have French as their first official language spoken.
What to expect
Climate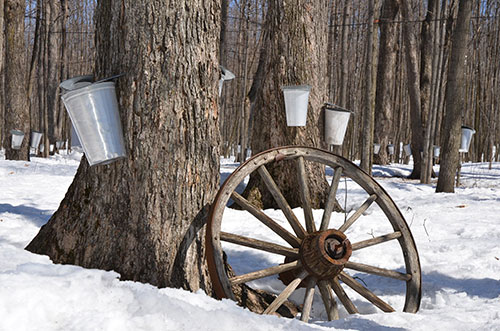 East
-10°C
on average in winter
+21°C
on average in summer
South
-4°C
on average in winter
+23°C
on average in summer (many storms)
North
-15°C
on average in winter
+20°C
on average in summer
Geography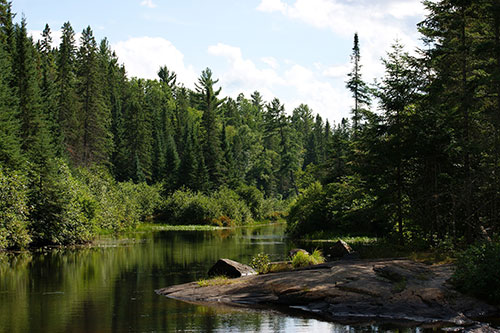 NORTHWEST
Canadian Shield, infertile region rich in minerals, lakes and rivers
NORTHEAST
boreal forest
EAST
agricultural
SOUTH
wine-growing
POPULATION
Two metropolitan areas around Toronto and Hamilton in the south, and Ottawa in the east. In the north, it is concentrated around the urban centres of Sudbury, Sault Ste. Marie and Thunder Bay.
Access
Several international airports including Toronto Pearson International Airport and Ottawa International Airport
The road network is well developed and allows for travel within the province as well as to neighbouring provinces.
It takes 1 hour 10 minutes to reach the U.S. border from Ottawa and 1 hour 30 minutes from Toronto.
Francophonie highlights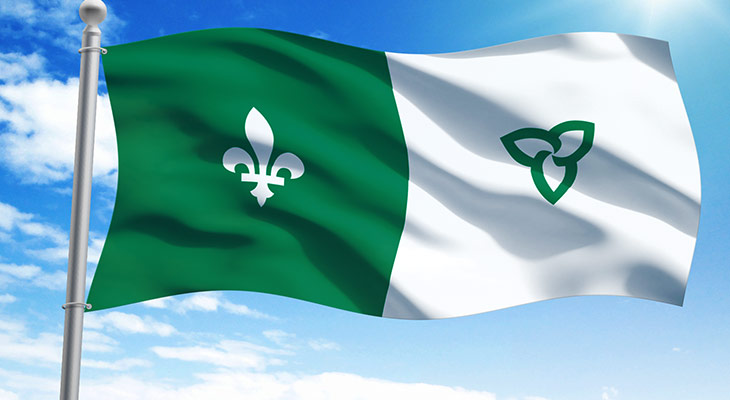 The Monuments de la francophonie de l'Ontario highlights the contribution of the Franco-Ontarian community in the province.
The French Language Services Act of Ontario ensures access to French-language services in provincial government offices located in designated areas.
Established in 2007, the Office of the French Language Services Commissioner of Ontario ensures that the province's population receives services in French to which they are entitled.
In 2016, Ontario was granted observer status by the Organisation internationale de la Francophonie (OIF), helping to promote Ontario's Francophonie internationally.
History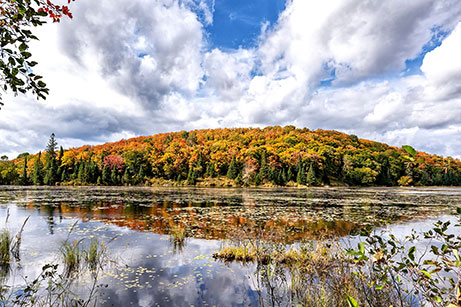 Some 20 years after the passage of French explorer Samuel de Champlain into Ontario (1615), Jesuit missionaries established Sainte-Marie-au-pays-des-Hurons near Georgian Bay, a settlement that was occupied until 1649. In the following century, in 1748, Francophones settled in Windsor in the southwest, and from the early 19th century onward, many Francophones migrated from Lower Canada (now Québec) to rural eastern Ontario and the city of Bytown, which later became Ottawa.
In the late 19th and early 20th centuries, mining and lumbering brought Francophones to the Sudbury area and further north to Timmins, Hearst and Kapuskasing. It was at this time that the Association canadienne-française d'éducation de l'Ontario (ACFÉO) was created, to help defend Francophone rights, particularly in the context of Regulation 17 (1912-1927), a provincial policy aimed at restricting French-language teaching in schools.